Garner's Field Car Park
Well done to the crew who spent Saturday laying and improving the car park at Garners Field, great teamwork and it looks fantastic.
Thank you – Philip German, Gary Thain, Steve Thames, Neil Peerman, Ian Wilkins, Ian Turton, David Crowe, Guy Elliot, Janet Elliot, Victoria Elliot(Scout), Sophie Elliot(Cub).
Explorer Scouts – Aaron Thain, Monty Warner, Jake Wood, Max Wood
Also Davis Clements and Danielle Amies for helping me preparing a well deserved lunch.
District Cub Scout Quiz – onto County
Thank you to the 3rd's and 4th's Cub Scout packs who took part in the District Cub Quiz on last Sunday.
Congratulations to the 3rd's for winning, they will go on to represent Farnham District at the County Quiz being held in February 2023.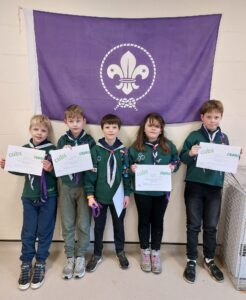 Well Done to the Hogshots
Well done Lennon for coming 1st in the SE junior heat of British Shooting Schools Rifle Championships with Kieran coming 4th and Ewan 5th, Jack came 3rd in the SE intermediate heat, all have made it through to the finals in February together with Jamie shooting pistol.