DC Notes to District 1st April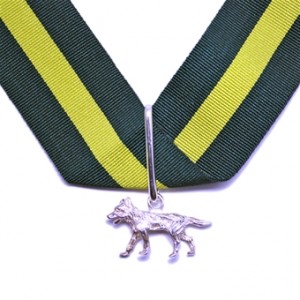 Congratulations to Ken Powell on being awarded Scouting's highest honour The Silver Wolf.
Ken's contribution to the success of the 5th Farnham Bourne, Farnham's largest group, has been immense. He continues his scouting as campsite chairman and valued adviser to his group and district.

Ron Binfield has been awarded a Bar to the Silver Acorn for his continuing commitment to Garners Field. Ron carries out the role of warden with charm and cheerfulness.
Robert Humphrey has been awarded The Silver Acorn for his continuing support for The 3rd's. Robert has spent many hours working on grants and fund-raising for the Daniel Hall and has cycled around Viet Nam on a sponsored cycle ride.
I enjoyed The Beaver swimming Gala on Saturday and well done to all who took part especially the triumphant 3rds.
A cold dark evening at Garners was the Venue for 5th's Gold Awards where a hot cup of chocolate was much appreciated.
I visited 2nds Beavers to give Brennan Healey and Tony Macer their wood badges and enjoy a noisy colony of happy Beavers.
Nicky Clements, Berni Peters and Paul Hamersley are now night's away advisors. Please encourage as many leaders as possible to get their permits so we can get our children out camping.
Please send all training modules etc. to Steve Thames out training administrator.
Please check your entry in our local directory and inform Roy Tubbs of any discrepancies. Also please check your entry on the HQ site as this will be crucial to Compass working when it comes in in the Autumn.
Please make a date for 7th December 3pm when we are planning a Scout Carol service at Farnham Parish Church.
I am hoping we may also be able to ask other youth organisations to join us.
The service will have a series of readings chosen to appeal to the children with favourite carols accompanied by tableaux acted out.
Any stage managers/ acting coaches who would like to help would be most welcome.
Philip
Situations Vacant
LTM Local training Manager
Newsletter Editor
ADC Cubs.
Dates From District Diary
27th April St Georges Day 10.30 am Farnham Castle
7th April SASu Garners 8pm
12th April Climbing training 10.00
28th April Climbing training 18.30
6th May SASu Garners
11th May Woodland Woggle 2nds sponsored walk and run Hampton Estate
4th June SASU Garners
6-8th June Cub camp Bentley Copse
14th June Beaver Fun Day Garners
19th June District Executive
27th June Scout  about weekend Ardingly
3rd July SASu Summer BBQ 6.30pm
17th July AGM 8pm Garners
4th October Beaver outing to Greenwich
23rd October ADC/GSL meeting 8.15pm at The Daniel Hall (3rds)
7th December 3pm Scouts Carol Service St Andrews Parish Church Farnham
8-10th May 2015 Frantic
June 2015 Bazazz