PLEASE NOTE: The Climbing Tower is closed until further notice for maintenance work.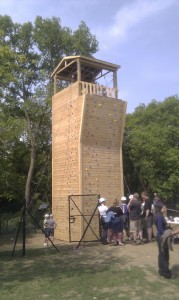 Since 2010 we have had a purpose designed and built climbing tower erected allowing us to provide climbing and abseiling at Garner's field.
Full climbing equipment is available including harnesses suitable for everyone, from Beaver Age to Adult.
Instructors
Farnham District instructors are available for this activity. Two instructors, one of which has a Supervisor permit are required to run this activity.
Scout Association permits for climbing:-
Instructor – operate one rope system
Supervisor – supervise up to three rope systems
Abseil – run abseil wall
Fees
Please refer to Fees for details of cost or click on the link above. Our Climbing Instructors have Scout Association authorisation for instructing this activity. Members of the Guide Association should enquire with the Climbing club about this activity.
Booking
To book climbing session contact via email to the climbing club at climbing@farnhamscouting.com
Supervision

The participating group must provide adequate supervision of all young people taking part. The Instructors responsibility is to safely instruct the activity – not to supervise the young people. As such, at least one adult leader must remain with the young people at all times.
Maximum group size on this activity at any one time is 12 people.
The final decision regarding safety will rest with the instructor. The Warden will fully support any decision made by the instructor on the grounds of safety, be this either being due to weather conditions, unsuitable behaviour from a member(s) of the group (young people or adult) or problems with equipment.
If you are able to provide you own instructors then you will need to provide a copy of the proposed instructor's qualifications when making your booking if such documentation is not provided then the tower will not be available to you. Ropes, harnesses and helmets are only available within District.
If any Farnham District leader or climbing instructor believes that an "Own Instructor" session is not being run safely, they will have the authority to intervene and stop any activity session.