After 10 years of fundraising, negotiations, and planning, last week one of our youngest Beavers handed over the keys to the old hut to Daniel the Project Manager for Bentley Contracts who are the main contractor for the new building.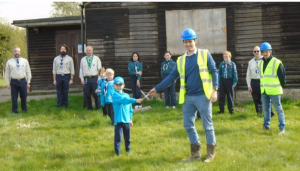 The old hut has served well, it was an old army hut brought up from Kent 64 years ago in 1957 and erected by local volunteers.
The total project budget is £350,000 and so far, £250,000 has been raised enabling the imminent construction of the watertight shell of the building.
Further fundraising for the internal fit out is underway with the committee exploring all sorts of funding and charity avenues.
Scouting has been going on in Tongham since 1908 in various locations including the school and notably a room over the chip shop.
Even the pandemic has not stopped Scouting and all sections have been busy Zooming.
Over Easter a "Garden Camp" was held with youngsters and some oldsters sleeping out and camp cooking in gardens. Now with lock down easing, face to face meetings have just started. We are hoping for a good summer as the old hut is now a building site!
Tongham Scouts, Cubs and Beavers are looking forward to moving into their new HQ hopefully by the end of the year and would be grateful for any financial and practical support to make that happen.
Scouting has been at the heart of the Tongham community since 1908, that's 113 years!
Our new Headquarters will help ensure our young people can continue to enjoy Scouts for many generations to come.
If you would like to help please email: tonghamscoutgroup@gmail.com
Or to donate towards our project: www.gofundme.com/f/New-Scout-HQ