Hi District
This newsletter goes out to all leaders and adult members but it doesn't get to parents and children so please can you pass on any relevant info, or just send them a copy.
Painters are in at Garners
Floors are going down this week and we are on course for Family Camp. Most of the builder's rubbish has gone and the Monday Crew are setting about titivating the outside areas.
Garners Goes Bananas
We are getting there with the fundraising only need another £20,000
Thanks to Adam Meara, Adam Chambers, Rick Lawrence and Glen Tofts all leaders from the 12th who entered Farnham Cyclethon and raised over £500 for Bananas.
Thanks also to Matt Saker a leader at the 8ths who is running The London Marathon in aid of Scout charities including 50% to Bananas.
Matt is trying to break the Guinness World Record for the marathon run in Scout uniform. Watch out for him on TV and more importantly go to his funding site and sponsor him.
Matt says..
"Many of you will know I'm a keen runner….fewer will be aware that in my spare time I help to run my local Scout group. Although at a little over 2 hours the marathon world record is perhaps a little beyond me(!), in 4 weeks' time I will be putting on my Scouts uniform (see picture below) for the Virgin London Marathon in an attempt to break the current Guinness World Record for running a marathon in full Scouts uniform, which stands at a very challenging 2 hours 58 mins 44 secs.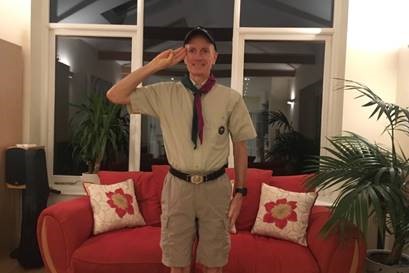 The money I raise from my World Record attempt will go to the Scouts Association Nationally, which helps 460,000 boys and girls in the UK from every background to develop the values, self-belief and faith in others that will help them mature into confident, resilient and active adults.
Locally, half the money raised, will go towards our local Scout Activity Centre Building project at Garners Field, Farnham, Surrey.
No pressure at all, but if you'd like to sponsor me in this attempt then please follow the link below.
www.gofundme.com/virgin-london-marathon-in-scouts-uniform
All contributions gratefully received.
Thank You
Matt "
Skills Day
Was a great success well done everyone. Pioneering, fire lighting, axe and knife skills, backwoods cooking, hammocking, archery, shooting and a good number of rafting permits gained.
Thanks to Eric Goulding and Dominic Getting, shall we do it again next year?
The Great Scout Art Competition and Exhibition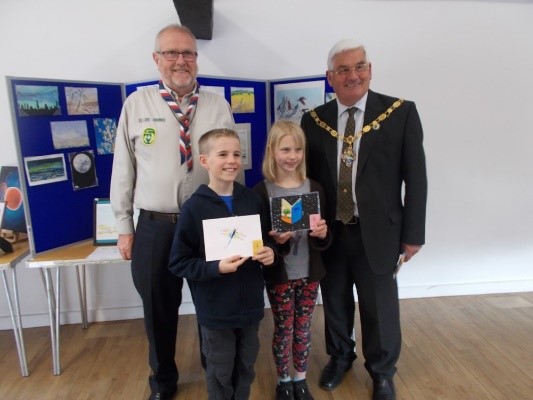 The Mayor and two prize winners
We had a brilliant exhibition with well over 300 exhibits and lots of visitors. Thanks To Janet and John Fraser and their team. Thank you also all the talented artists and to The Mayor David Attfield who was chief Judge.
Best in Show!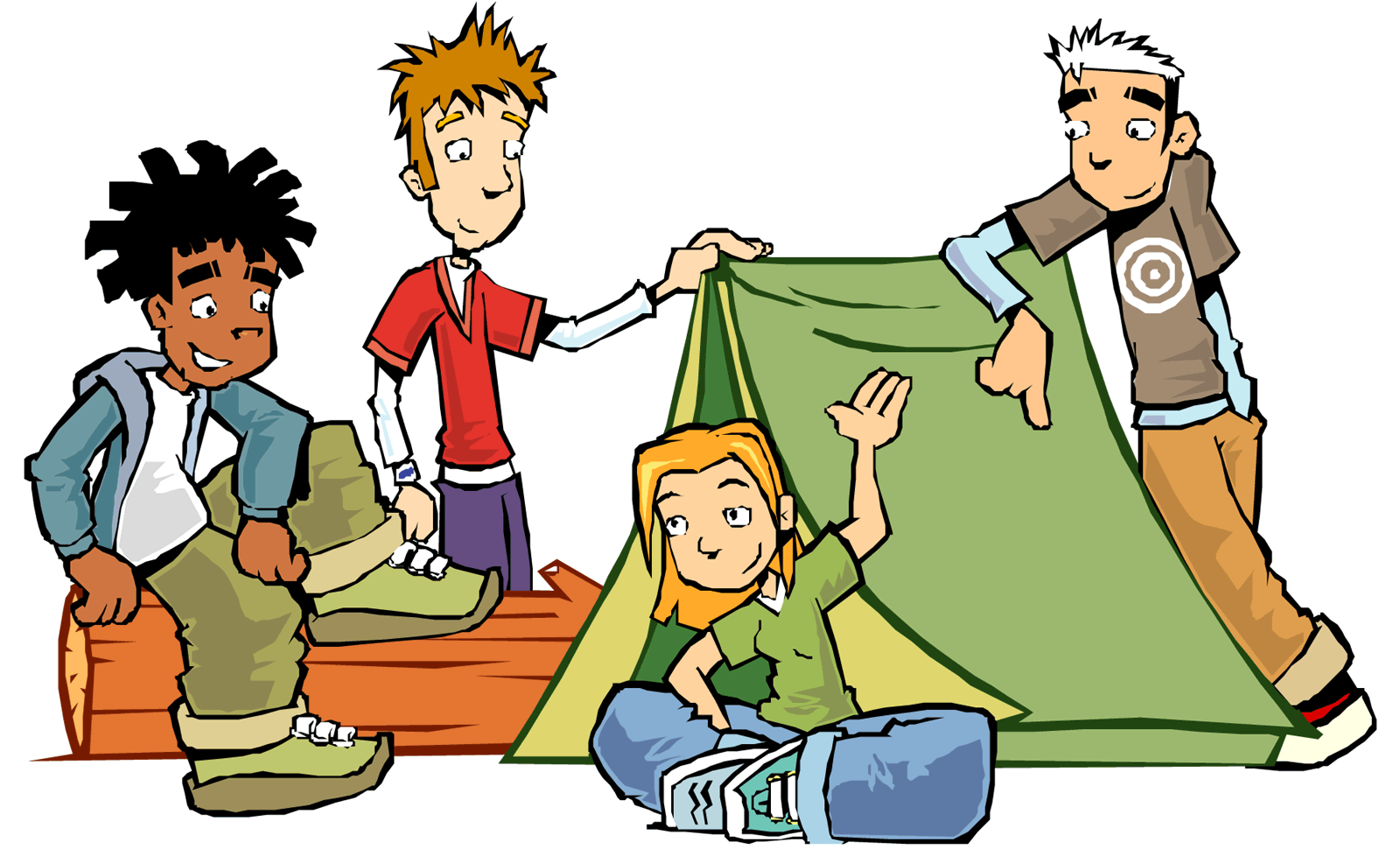 Family Camp
Advance bookings are now closed but you can still come on the day (£15/head). Adults who want to camp will need a current Scout DBS.
I'm looking forward to hearing what activities each group has arranged.
Farnham Scout Wind Band
By popular demand we are getting the band together again for Family Camp. All musicians who are grade one and above and can cope with a couple of sharps are welcome. Beavers, Cubs, Scouts, Explorers, Network, leaders and parents are all welcome. There will be a rehearsal on Sunday morning 28th of April and the performance at St Georges Day that afternoon.
Fiendish Quiz
There is a quiz going round, get your copy from the Scout Shop or at Family Camp £2.00 a go.
Training
Thanks to training team who have run another full first aid course, next one will be in the Autumn
Campsite
The camping season has started early this year. The grass has been cut, the wood pile sorted out, we are repairing fences and getting our fab site ready for a busy year. Volunteers are welcome Mondays from 09.00 till about 12.30
Anyone got a nice single bed for our new first aid room?
Dates for your Diary
4th April Sasu Rural life talk 8pm at 11ths H.Q.in Guildford Rd Trading Estate (all welcome)
26th-28th April Family Camp
2nd May Sasu back at Garners!
18th May Beavers Go Wild at Bentley Copse
4th. June District Executive 7.30pm Garners
6th June Sasu visit to Medics museum at Keogh Barracks
22nd June SCRAM County Cub Day.
4th July Sasu BBq at Garners 6.30pm
11th July District AGM 8pm Garners
5th September Sasu Bright Bricks Lego evening
3rd October Sasu
4th-6th October District Cub camp Garners Field
12th November (Tuesday) Sasu Skittles
12th December Sasu Christmas Dinner at Daniel Hall