DC Notes November 2017
Hello Everyone
Garners goes Bananas is coming,
watch this space!
---
Sunday 12th November is Remembrance Sunday. Farnham Scouts will be parading as usual. All sections to meet in the Central Car park at 10.00 in full uniform. Beavers can be collected at about 11.00 just before we go into church. The whole event will finish at about 12.00. I know some will go to their local churches, it is a great opportunity to show off Scouting.
---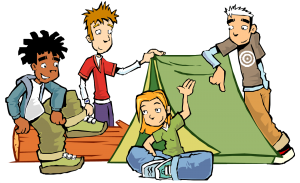 Family Camp 2018
We have had our first Family Camp meeting.
We are going to increase the cost to £12.00 per person for the weekend and £15.00 if you just turn up on the day. Adults who want to sleep over must have a current DBS.
We will be asking for volunteers to pledge some time to run the event. Tasks will include car park, booking in, catering, toilet cleaning, supervising bouncy castles etc. There will be lots of us, so no-one should have to do too much.
It would be good if we could have some new activities to add to the old favourites. Every group should provide at least one activity but if you can do more that would be great.
Gill and Brian Snedden will be offering breakfast baps, teas, cakes etc so y0u need only provide your own evening meals if you so wish.
I'm reliably told it will be a warm and sunny April if I am wrong you can half my pay.
---
Five scouts have been chosen to represent Farnham at The World Jamboree in USA in 2019.
We had nineteen applicants from Farnham and Haslemere and it was a very difficult task to pick the lucky five.
We think all the applicants had a great weekend.
Please support The 4ths and The 5ths both Groups have bids for grants on the Aviva site, please sign up and vote.
On The 18th November we have The Chief Scouts Gold Award Ceremony. It is now being held at St Thomas on The Bourne Church from 7pm. If you have any Scouts eligible please contact me or County.
Our next First Aid course is on 25th November, it's now full but we will be doing another in March.
I have asked Benita Middleton from County to do a Safeguarding session on 14th February 8pm at Garners. You can do this on line but the County presentation is well worth attending. You need to do this every 5 years.
We need to find a Young Leader Co-ordinator please.
This person would arrange basic training and safeguarding for young people doing Dof E with scouts and support them during their time doing the award. All Young leaders need to do module A this includes children who are not part of the Scout Association. If you have young leaders, please make sure you are complying with the rules.
We always welcome helpers at Garners on a Monday morning if anyone has the time.
Please have a look at the "dates for your diary" at the end of these notes and if you have anything to include in future please ask me.
Happy Scouting, Philip
Situations Vacant
Young Leader co-ordinator
Dates for your Diary
18th November Chief Scouts Award Presentation at St Thomas on The Bourne Church from 7pm.
25th November First aid course at Garners 09.30- 16.00
5th December District Executive 8pm Garners
7th December Sasu Christmas Dinner at Daniel Hall.
7th January New Years gathering and launch of Garners goes Bananas 12.00 Garners Field
14th February Safeguarding 8pm Garners
6th March District Executive 8pm Garners
24th March Recruiting Seminar Garners ( see attached poster)
20th– 22nd April Family Camp
11th-13th May 2018 Frantic. Farnham, Haslemere and Godalming's adventure weekend with the Guides for all sections from Beavers to Network.
5th June District Executive 8pm Garners
23rd June Bazazz Surrey Beavers fun day at Merrist Wood near Guildford
12th July District AGM 8pm Garners everybody welcome!
25th September District Executive 8pm Garners