When:
July 2, 2021 – July 4, 2021
all-day
2021-07-02T00:00:00+01:00
2021-07-05T00:00:00+01:00
Where:
South of England Showground
Selsfield Rd
Haywards Heath RH17 6TH
UK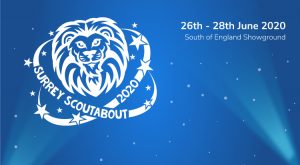 Scoutabout 2020
What is Scoutabout? Scoutabout is an extraordinary event that only happens once every three years – 5,000 Scouts and Guides aged between 10 and 14 from all over Surrey participating in a weekend of fun, learning and activities.
Where is Surrey Scoutabout? At the South East of England Showground, Ardingly, West Sussex – the only local place big enough to take us all!
When is it? Scoutabout happens every 3 years and the next event will be on the weekend of 26th – 28th June 2020.
So what happens at Scoutabout? Scoutabout offers over 200 activities including – Caving, Canoeing, Paragliding (pre-booked only), Archery, Rock Climbing, Abseiling, Crafts, Shooting and all sorts of other activities!
Is your Group Going? Speak to your Scout Leaders and find out.