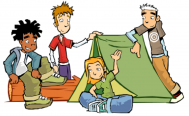 The Family Camp this year was a huge success!
The sun came out, the rain stayed away, well nearly and everyone had a great time and lots of fun.
We had 733 total visitors over the weekend, this made it a record.  We've never had so many before.  600 people camped as well, giving Garners Field a great "buzz" all weekend.  It was cold overnight but no one seemed to mind at all and spirits never flagged.
The activities were great.  Big Bounce arrived on Saturday morning and set up their great inflatables.  There were activities on the inflatables for all ages, including a human pinball football game and a laser game.  Several of the groups also put on activities which included Scalextric car racing, crafts, canoeing, climbing, archery, shooting (in the new shelter) and more, more, more!
On the first night we had Bingo and a gathering around the campfire.  On the 2nd night the campfire gathering was even better with songs and fun plus cocoa, organised by the Network.
Mr Giant came on Sunday morning to keep the children occupied, as well as the craft centre opened up again, along with the Scalextric racing and some of the field events.  Roy Tubbs came with the shop, well not literally but some of it, and did a roaring trade.
Eric was kept a little active with some cuts and bruises but not too bad by all accounts.  There were some rather silly people who could not be bothered to use the main entrance and kept trying to get in/out of the camp site via 2 lots of barbed wire fencing!  More fool them really, though hopefully they were not trying to get in without paying!
The service at 3pm was held in the marquee and the Farnham Town Brass Band played for us and helped with the hymns and songs during the service.  Farnham's Mayor and Consort came and there were awards given, leaders sworn in and the groups promises renewed.
Anyway a TOTAL success, so congratulations to Philip German, our DC and the Family Camp committee.
Here are some images of the two days:-