DC Notes 1st March 2016
Hello Everyone
I am so pleased to report our numbers have increased from 845 last year to 980 this census.  I know it's not about numbers but WOOHOO!!
Well done everyone we must be doing something right, and it's across all sections, fantastic, I can retire with a happy heart.
Please have a look at the dates for your diary and see what a lot we have planned in 2016. All sections are having a District camp/sleepover and it would be great to have as much support for our hard working ADCs Janet, Chris, Karl Ian and Neil who all put in so much to Farnham Scouts.

We have Compass!
The system should be working now and line managers can get on to add and edit records, if you have any problems please ask Steve Thames   steve.thames@farnhamscouting.com or ring H.Q.
Family Camp is almost upon us, 22nd-24th April. This is a fantastic weekend for all the family.
Remember all adults need DBS clearance to stay overnight.
We are getting a team together to organise the event and could still do with support on site management and catering if anyone is available
We have our swimming badge at Farnham Sports Centre on 7th May, it's a great chance to get this badge but we need help on the day, please contact Dense Iverson denise_w909@hotmail.com (watch out there is an underscore between denise and w ) – Tel: 01483 811014
Sasu takes place once a month usually at Garners.
It's open to all adults in and around scouting who meet for a social gathering and also supporting local Scouting. We would love to welcome some new members. Have a look at dates for your diary to see what's planned. Sasu also runs the Scout Shop and the maintenance crew for Garners and any new volunteers would be welcome.
We have a committee now set up and lead by County to find my replacement as DC.  Please if you want to nominate someone or volunteer yourself please contact Manda Bragg our Chairman chairman@farnhamscouting.com
We have now started building our new Field Shelter down at the far end of the field and we plan to hold the shooting in it at Family Camp.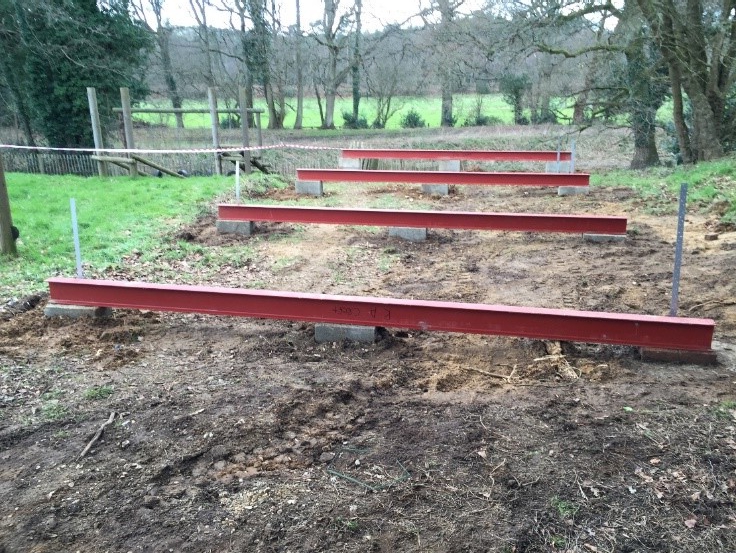 Foundations in place, since this photo the floor has been built.
Bill Weller is running 3 training sessions on the climbing tower (dates below) please email him if you are interested   william.weller@btinternet.com
Happy Scouting
Philip
Situations Vacant
LTM Local Training Manager
Dates for your Diary
7th March Sasu Talk by Registrar 20.00 Garners
12th March Cub Quiz at the 11ths 14.30
15th March District Exec 20.00 Garners Field
5th April Sasu Talk by Bee Keeper 20.00 Garners
22-24th April family Camp
4th May Cub Leaders Meeting Royal Oak Wrecclesham 20.15
4th May Sasu Art    evening with Janet Fraser 20.00 Garners