Summit Network are a District based Unit and meet weekly at the 3rd's headquarters in Farnham on a Thursday night from 7.30- 9.30pm. We are always on the lookout for new members, so if you know of anyone who might be interested then point them in our direction! Contact us through Facebook or email us at: summitnetwork@farnhamscouting.com

2017/2018
Summit has some big plans and ideas for this coming year, from Theme Park Camp to group/district linking and making a volunteering and community events.
Our events for the spring term are:
(Sun 7 – Logs / Garners Goes Bannanas)
11 – Chip Shot Survey (All)
25 – International Food / Camp Planning (Jack/all)
8 – District Camp Hike Plan (Neil)
22 – "Fire Stuff" (Angie)
1 – Explorer Link-In (Matt)
8 – "Stupid Challenge" (Rupert)
15 – Photo Night (Matt & Rob)
22 – First Aid (David/Neil)
29/30 – Camping at the farm (Neil?)
5 – Casino (Joint night) (Stuart / all)

2016/2017
Since the summer Summit have been busy.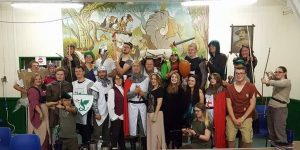 We have had some new members join from Farnham Explorer Units and ran a very successful Theme Park Camp for over 300 Explorer and Network Scouts! In December we then stepped into the kitchen for some fund raising; cooking a Christmas dinner for the SAS, it was so good that they have asked us to do it again next year!
After the New Year we have continued to meet every week. Our activities have included: stupid challenge night, Pictionary, knots, 6 Nations themed international evening, playing with fire/light photography, watching a members pantomime, a night hike and of course pancakes! We also stepped out of the organising role in February by attending a national network camp organised by Bedfordshire Network. "Fun in Beds" was a really relaxing weekend enjoyed by all who went. Activities included archery, arts and crafts, canoeing, a pyjama party and campfires. A camp we hope to return to next year!
We have an exciting programme planned for the next couple of months and are in the (very) early stages of planning a summer camp to Devon or Wales. If you would like to see what we got up to for the past few years please do by following this link; https://farnhamscouting.com/website/network/pastactivities/ .
We look forward to seeing you all at Family Camp!