Report 2015/2016
 For those who don't know, Network Scouts are the 5th training section of the Scout Movement for ages 18-25. We are a District based Unit and meet weekly at the 3rd's headquarters in Farnham on a Thursday night from 7.30- 9.30pm. Once again it has been a very successful year for Summit, with plenty going on each week.
Back in late August last year we spent a long weekend out at Garners Field, where everything (including a 6 course roast beef dinner in a camp oven) was cooked on an open fire. Other activities included a day hike and making a raft to go on the river to invest two new members- Jaz and Millie. A few weeks later Summit yet again ran Theme Park Camp, with over 400 Explorers and Network enjoying a day at Thorpe Park followed by a "band/song" fancy dress themed party and silent disco on Saturday evening.
 Apart from bonfire night celebrations and a night hike, our programme of activities in the autumn was mostly indoors, although we did manage a night in the snow out at "The Farm", meanwhile other weekly activities included Finnish and Vegas themed evenings! At Christmas we had our now traditional dinner- cooked ourselves and stretching to just the 5 courses this year! As the spring arrived we were able to get outside more spending evenings Geo-cashing and kayaking, as well as attending Family Camp and a paint balling camp with the Explorers in April.
By far the highlight of the year came recently with a week at Kandersteg International Scout Centre, Switzerland in early June. It had been one of our New Year's resolutions as a unit to go on an international camp, so it was a race against time to get everything organised. To reduce the cost of the trip we did a bit of fund raising as a group, including: car parking at Pierrepont farm, log chopping and running a stall in Gostrey Meadow's.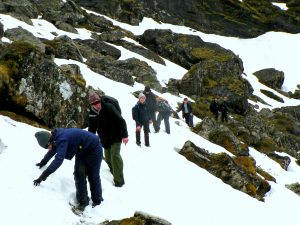 Despite the weather (it rained almost every day), we had a fantastic week in the picturesque surroundings of the Swiss Alps.  One of the highlights of the week was an epic day hike to the Jaegertosser peak, nearby the campsite.  This took an adventurous twist when we had to go "off-piste" and use a climbing rope to cross sections of the path blocked by large patches of snow and ice! It was all worth it though because the views back down the valley were stunning. Other activities included:
Swimming at a pool in Kandersteg village
Short walk to a glacial lake followed by a toboggan run
On site conservation work
Team Building activities
Football with Dutch Scouts
Trip to thermal pools that included a 182m slide built into the side of the mountain valley!
It has been an exciting year and as ever we have been recruiting, with several new members joining in the last 12 months. We are always keen to welcome fresh faces- contact through Facebook, personal contact, or the website (www.SummitNetwork.org.uk) if you know anyone who might be interested. Finally, as always I would like to take this opportunity to thank Neil for all his support with the unit again this year, especially his help organising the trip to Kandersteg.
Jack Fidler, Summit Network Secretary
---
Network AGM Report 2014 / 2015
Summit Network, for those who don't know, Network Scouts are the 5th training section of the Scout Movement. They are a District based Unit who pull their members from all Groups. They are aged between 18 and 25.
We meet weekly at the 3rd's headquarters in Farnham on a Thursday night from 7.30pm – 9.30pm.
We have had another fantastic year which has seen a continuation of the success we have had since re-launching 2 years ago. With the help of the UCA fresher's fair and numerous linking activities with local Explorer units, we have increased membership again this year. We now have 6 to 8 regularly turning up with increased numbers during university holidays.
The highlight of the year was our Summer Camp to the Lake District in July 2014. We had a fabulous week at Great Tower Scout campsite on the banks of Lake Windermere. Activities included canoeing, Ghyll Scrambling and a two day hike in the fells.
At regular meetings we have done a wide range of activities including bowling, scavenger hunts and a chip shop survey! We have done film nights and even made our own film one evening! We also opted for an international flavour to some meetings with Mexican and Japanese themed nights. In December we cooked our own 7 course Christmas dinner in the newly refurbished kitchen at the 3rd's HQ.We continue to fund raise in order to cover running costs and prevent the need to charge subs. This year we have done log chopping, apple picking, gardening and rhododendron clearing.
We try to actively participate in the wider Scouting community as much as possible. This has included several Summit members helping run summer camp for nearly 50 Portuguese and English Explorers at Broadstone Warren. A few of us also helped the 4th Farnham Scouts set up and run their assault course at Scoutabout. Finally we attended Family Camp again and ran the zorbing activity.
As always Summit ran Theme Park Camp in early September. It was another successful weekend attracting over 350 participants from Explorer and Network groups across the country.
We have got many more exciting things planned for the year ahead, including summer camp in August- this year at Garners Field.
Finally I would like to take this opportunity, on behalf of everyone in Summit Network, to thank Neil for all his help and support in insuring we have such a successful unit.
Jack Fidler
Summit Network Secretary