What has been happening:
Scoutabout – fantastic weekend nearly 5000 people on site; well done and thank you to all our volunteers without who our 130 Scouts could not have had the wonderful experience and opportunity.  Particular shout out for Oscar (5th) for helping co-ordinate including sorting the transport, Sam (2nd) for hiring the van and picking up all the equipment and especially Sarah (2nd) for organising the food – most important for keeping th e Scouts energised and happy.  Also for those who organised our District Tomahawk activity and those who helped on shooting and kayaking.
Scoutabout is back in 2024……………………
Farnham Carnival – well done to 4th for winning Gold at the Farnham Carnival.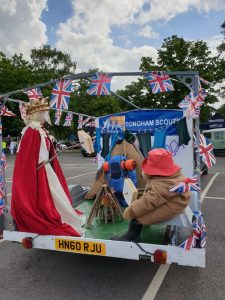 Please let me know of any events/achievements you would hi-lighted for my next e-mail.
Any picture that I can publicly use are always welcome.
Diary Dates
https://farnhamscouting.com/website/general-event-dates/
District:
2022
11th July 2022 – Social and AGM – All Welcome – Garners Field – 7pm – To help us cater please let us know if you are coming by following this link: ; https://forms.gle/FtP36WEGGGbJd43d9
please can you send me photos I can publicly use of what has happened this year
9th – 11th September 2022 – Theme Park Camp – Explorers and Network – http://themeparkcamp.uk/ – FULLY BOOKED
1st – 2nd October 2022 – District Cub Scout Camp – Cubs – Garners Field – information via Cub Scout Leaders
2023
21st – 23rd April 2023 – Family Camp – All Welcome – Garners Field
5th – 7th May 2023 – Frantic 23 – All Sections – Herons Wey & Garners Field –  Farnham, Haslemere and Godalming activity weekend for Scouts and Guides
County:
2022
17th – 18th September 2022 – Beavers Go Wild – Beavers – Bentley Copse – https://www.surrey-scouts.org.uk/events/beavers-go-wild-2022
29th – 30th October  2022 – FrightEX24 – Explorers – Bentley Copse
2023
13th – 15th January 2023 – Frost Camp – Scouts – Bentley Copse
17th June 2023 – Scram – Cubs – Hook Arena
Surrey Events: https://www.surrey-scouts.org.uk/upcoming-events
People
Farnham District Permit Holders
List of Activity and Nights Away Permit holders and Nights Away Assessors in Farnham:
Farnham District Training Advisors
District Volunteer Opportunities
Training
Recording of ASD and ADHD Awareness Session
For those who missed the webinar organised by Laura Dando and Debbie Ollerenshaw (thank you so much both of you) please follow this LINK to the recording, and this  SLIDES to the slides.
Regards,
Ann-Marie